Grove High Tech maintain unbeaten run in EBFA Ralph Green U-11 League
..wins also for Diamond Upsetters, Mocha ChampsGROVE High Tech continued their unbeaten run, first-timers Diamond Upsetters trounced defending champions Agricola Red Triangle, Mocha Champs arrested Herstelling Raiders while Samatta Point/Kaneville and Friendship played to a draw when rivalry in the East Bank Football Association / Ralph Green Under-11 League continued yesterday at the Grove Playfield.Grove ran away easy 4-0 winners over Diamond United thanks to a double off the boot of Dwayvon Cliffe in the 27th and 29th minute. Jevon Pluck had earlier opened the scoring in the 11th minute to break the deadlock.Diamond United looked good for most of the first half and had a few opportunities to take the lead but were denied on account of some excellent goal keeping from Ramesh Persaud. Onec Grove was able to score, they continued in that vein with a brace in each half. Their second goal was converted by Jamal Cordis in the 14th minute.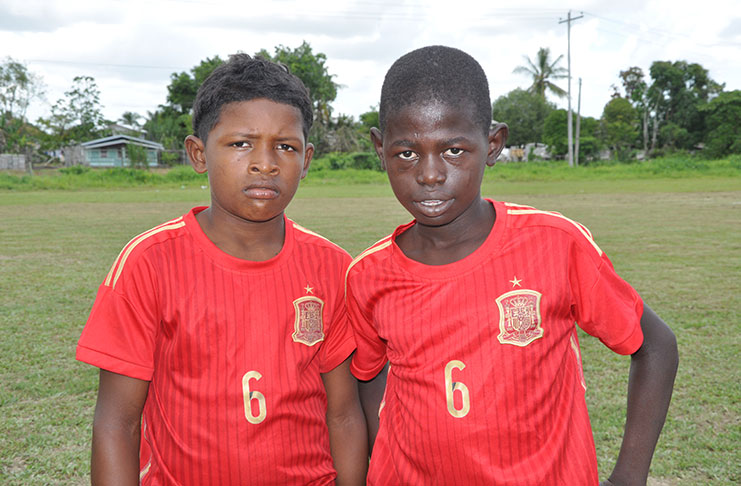 Mocha Champs scorers; Daniel Bradford and Neil GarrawayThe biggest upset of the league came when defending champions Agricola Red Triangle lost to `new kids on the block', Diamond Upsetters, 2-0. The Diamond side wasted little time in putting Agricola on the back foot by scoring in the first minute of the match, Shafeek Russell doing the honours.The exchanges thereafter were intense between the sides but the Diamond lads sensed that they were up to something special. The insurance goal for them came off the boot of Russell in the 22nd minute which resulted in them grabbing full points from the match.Mocha Champs were led to a big 5-3 win over Herstelling Raiders thanks to a helmet-trick, the first for the league from Daniel Bradford who hit the back of the net in the 11th, 14th, 18th and 28th minute. The other goal was scored by Neil Garraway in the 13th minute.Herstelling Raiders got all their goals from Solomon Austin in the 17th, 22nd and 25th minute.The other match of the day between Samatta Point/Kaneville and Friendship All Stars ended in a 1-1 draw. Friendship drew first blood in the 18th minute through an Anthony Christian goal but that advantage was cancelled out by Samatta Point/Kaneville's Shamar Lyken's 23rd minute strike.